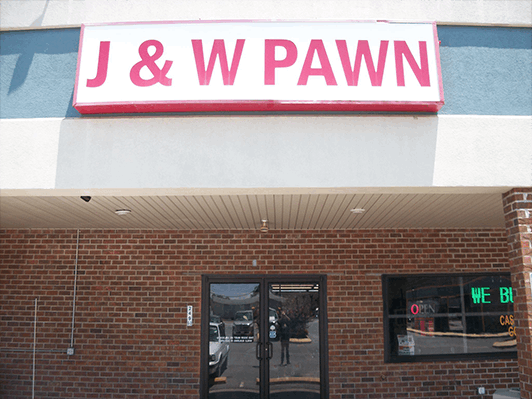 ABOUT US
Our pawn stores specialize in short-term small loans. We offer you collateral loans with minimal interest rates. This is an ideal option for those who want to obtain a secured loan that is quick and easy, or if you are unable to qualify for a loan from your bank or credit union. We will also buy your gold and silver. Our terms of business as pawnbrokers are highly regulated though a government contract.
Maybe you are not interested in a loan from us just yet. We still have plenty to offer in previously owned, lightly used merchandise. We have fair prices on products including jewelry, firearms, tools, musical instruments and electronics, such as televisions, laptops, tablets, DVD players, gaming consoles, digital cameras, DVD's, and more. If you collect coins, be sure to stop in and have a look at our inventory. Our sales associates are friendly, knowledgeable associates who are willing to answer any questions or concerns you may have.
FAQs
We want you to be comfortable and confident when working with any of our pawn shop locations. Below are some of the most common questions people have concerning our business. However, please feel free to ask any other questions you may have about pawn loans, merchandise, or any aspect of our business.
Are pawn shops full of stolen merchandise?
No! Less than 1% of items in pawnshops are identified as stolen goods. Pawnshops are actually the worst place to try and get rid of stolen merchandise, despite what you see on television or in the movies. Pawnshops are highly regulated. We work very closely with local and federal law enforcement officials, and train our staff to be on the lookout for, and identify, stolen property.
Are pawn shops regulated?
Yes. States have regulated the pawn industry for decades, and most pawnbrokers are licensed and regulated by local authorities as well. We work closely with state and local officials to ensure everything we do is correct and lawful. We are subject to laws such as the Truth in Lending Act, Equal Credit Opportunity Act, Fair Credit Reporting Act, Patriot Act, and Federal Trade Commission Rules on Data Privacy and Security Transfer, as well as Federal Firearms Licenses for shops that deal with firearms. At the federal level, we are regulated by the Federal Trade Commission (FTC), Bureau of Alcohol, Tobacco, Firearms and Explosives (ATF), and the Treasury Department.
How do you determine the value of an item?
We base pawn loan amounts on the value of your item. The appraisal process varies depending on the type of item you want to pawn. Our expert employees have experience in appraising the value of your items based on current condition and market value. We have several tools at our disposal to help determine the value and get you what you need. We work hard to ensure that our loan values are in line with the general marketplace for pre-owned merchandise.
What about the value for gold and jewelry?
Our brokers have access to the latest prices paid on precious metals and diamonds so we can get you the highest value on your item at any given moment. When jewelry is the collateral, we test the precious metals and diamonds to determine their value.
Am I able to get a loan on my guns?
Yes. We accept firearms as collateral for pawn loans, as well as sell firearms in our locations. We are registered firearm dealers and must comply with all federal regulations. In addition, our stores never have loaded firearms on the premises that are for sale or in pawn. Please do not bring any firearms in for us to look at while they are loaded! As a service to our customers, we also provide information at each location to help you get the proper training. You may also receive information about obtaining a license to carry concealed at.
Are my items safe while they are in pawn?
While your item is in pawn, you still own it. It is our responsibility to keep it safe and in good condition while it is in our care. In many cases your item is safer with us than in your own home. All of our pawn shop locations have state of the art security systems that are locally monitored 24 hours a day. When you give us an item for pawn, we keep all accessories (remote controls, cables, etc.) with your item and place it in a secure area. Your item is safely stored here until you come back to pay your loan in full and claim your merchandise.